2000 KIDS TOURNAMENT
On July 29th, the James River Smallmouth Club held it's annual kids tournament. We had the best turnout in memory, 16 boats with 20 kids. Thanks to everyone who participated for helping to make it such a wonderful day.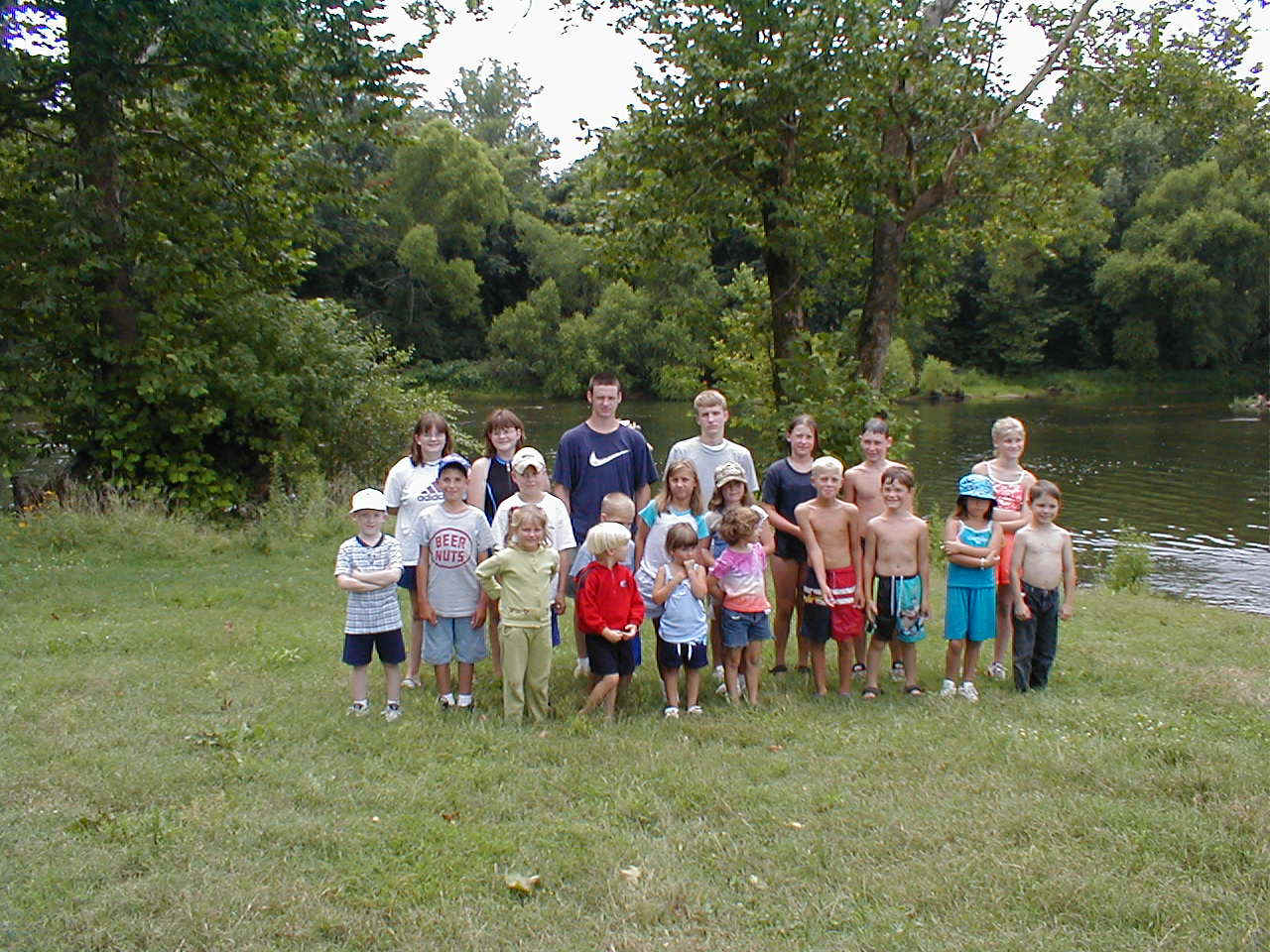 Pictured here are the young participants who finished as follows: Age 10 and over division: Jeff & Justin Dyson(also awarded Big Fish), Donald, Heather and Lance Seal, Richard Worsham and Rusty Stiltner, Mel, Ashley and Brooke Wright, Jerold Blevins and Andy, Mickey and Brittany Grant, Steve McCammie & Keith Whilock(sharing the boat with a younger participant. Age 9 and under Russell, Katelin & Hunter Wheatley, Jeff & Ricky Poston(tied for Big Fish), Charlie Rice and Dallas Dandridge(tied for Big Fish), John Coleman and Matthew Bernhardt, Nicky Hurt and Nicholas Dunivan, Chris and Matt Stiltner, Joe and Melissa Newman, Steve and Kelsey McCammie, and Greg, Holly & Heather Coley. Also pictured is Hunter Worsham who drew names in the drawing for us.
I'd like to thank the following people for all they did. There was alot of help so if I left anyone off the list, please let me know. Please if you see these people or use their businesses take a moment to thanks them for helping us out.
Kim Dyson who helped with set-up, presentation of awards, weigh-in, stuffing bags and pretty much did whatever I asked of her to help. Jeff Dyson who got items for the drawing and bags from Greentop and helped to stuff the bags as well. Steve Wilburn who did not fish, but still came to run the weigh-in, Steve also donated money to help purchase prizes. Mickey Grant, who personally purchased enough trophies so that every participant had one, Mickey also purchased a great number of items for the drawings. Bobbi Stiltner who brought her grill and tables and cooked hamburgers and hot dogs. Dave & Frances Wright who also cooked burgers and dogs and donated to the prize pool. They also made the last minute stop at the store to get what I forgot. . plates and utensils. Richard Worsham who donated items for the drawing and prizes. John & Deborah Coleman who took great digital pictures like the one above, for more great pics see links at the bottom of this page. Jerold & Lynn Blevins who donated to the prize pool as well.
I'd like to thank the following companies for their generous help as well: Auto & Motorcycle Repairs, Ltd.(money to purchase prizes), Video Square who donated movies and gift certificates for the drawings, Greentop Sporting Goods(items for bags and drawings), The bags were stuffed with items from Gary Yamamoto Baits( who donated a huge amount of soft plastics), Classic Fishing Products, aka CULPRIT(also donated plastics), Va. Dept. of Game & Inland Fisheries(bags and bumper stickers), and Sheldon's, Inc., makers of Mepps(Fishing Guide pamphlet's and catalogs).
Pure Fishing who represents Berkely, Fenwick, Abu Garcia, Coleman and Red Wolf and Luhr Jensen, both made offers to us to purchase items at up to 50% discounts direct from them. Due to time contraints on shipping we were unable to take advantage of these offer, but nonetheless we are still gracious.
You can also see this list here: Sponsors.
Click on the picture to see full size version.
All Pictures courtesy of John & Deborah Coleman